The first round of the Kobe Waterfront Art Project :
Kobe Port Tower
Projection Mapping
The concept of this event is to express the diversity of Kobe through art.
Spectators will see series of different world unfolding before their eyes, starting from hydrangea (the city's flower),
then the dancing carps (a tribute to the Fish Dancing, an art sculpture standing in Meriken Park),
followed by the unique scenery of Kobe such as its port and cityscapes.
Also, a gigantic 70-meter mannequin will appear on a vertically long projecting screen.
Period

:

January 14, 2022 (Friday) ~

April 27, 2022 (Wednesday)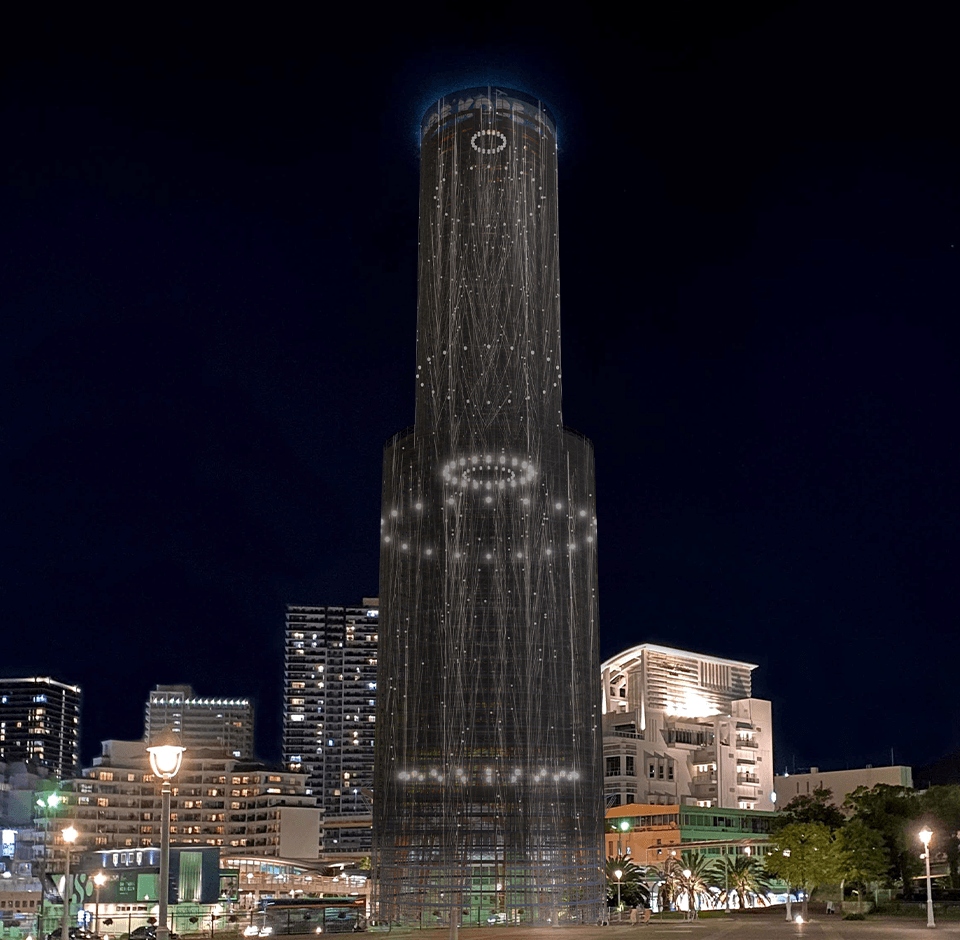 Kobe Port Tower, the long-standing symbolic icon of Kobe that has observed the history of this city, is getting a makeover behind a veil as if it is treated as a beautiful goddess.
Various images related to Kobe will be projected thru out the show.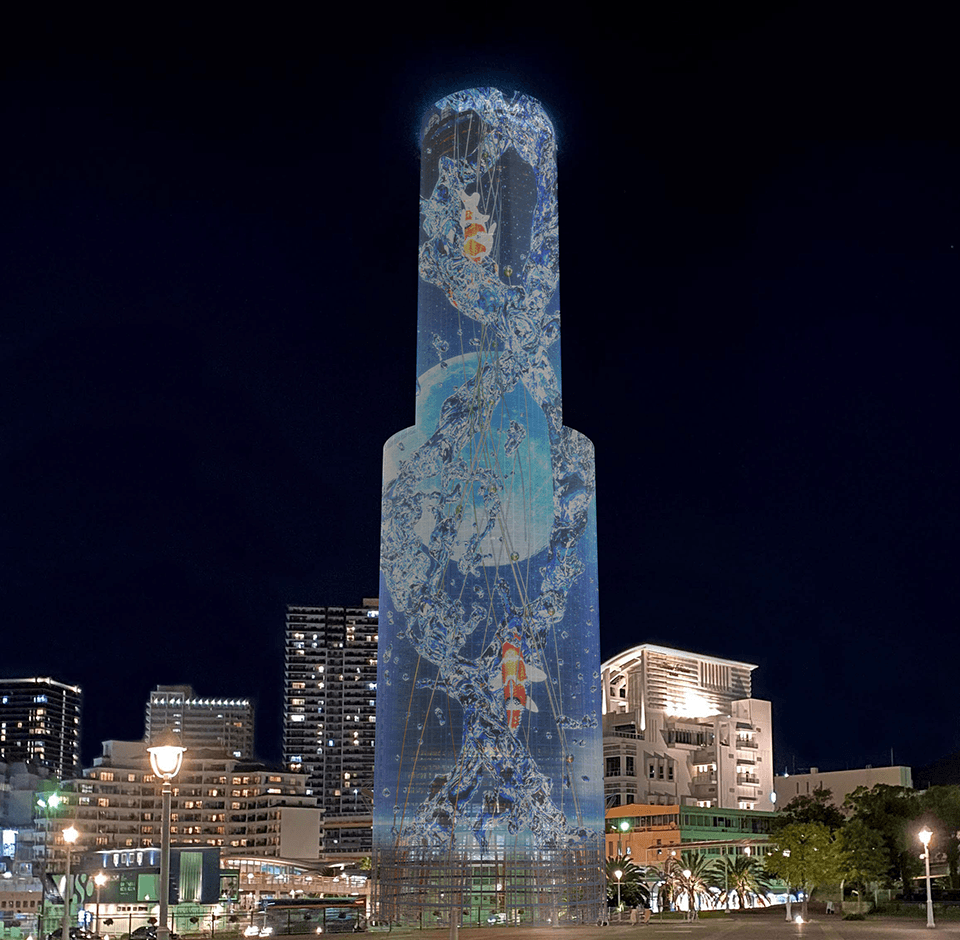 [2] Development and Growth
02/09
Under the shimmering moon light, a stream of water gradually forms a swirl. Then carps, which is a motif of the sculpture "Fish Dance" set in Meriken Park in 1987 to commemorate the 120th anniversary of the opening of Kobe Port, start to swim gracefully.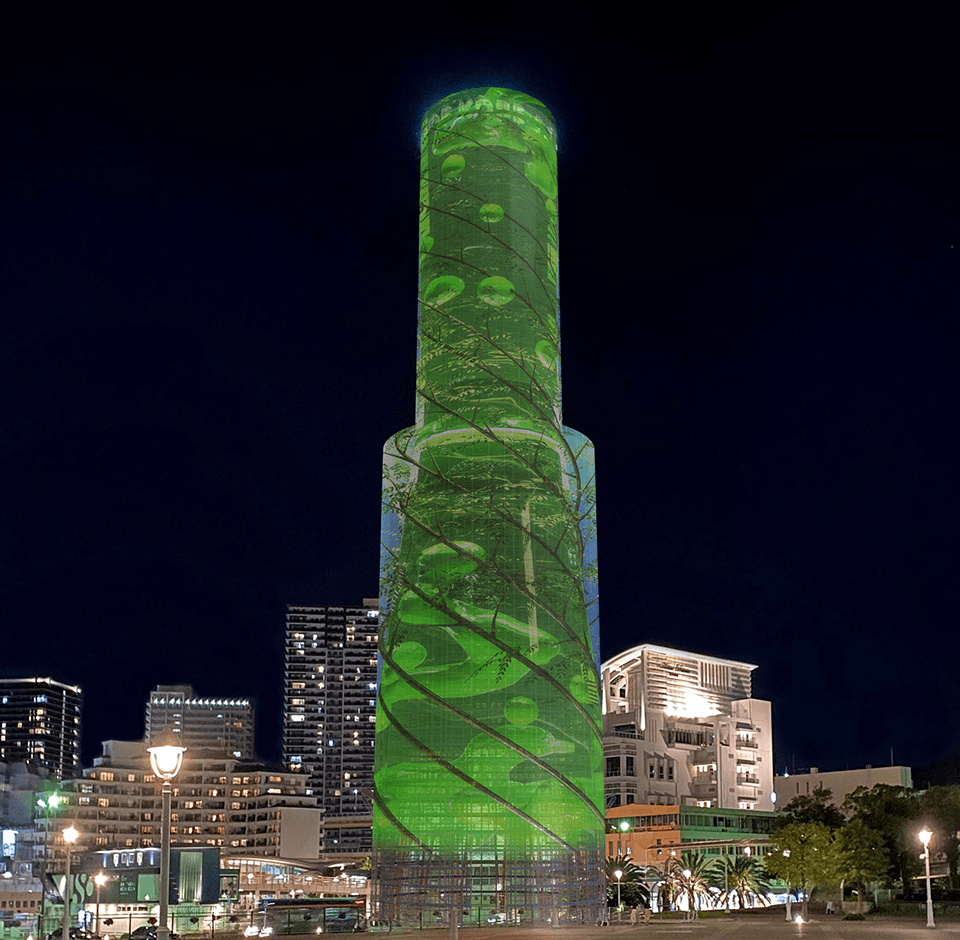 [2] Development and Growth
03/09
When carps meet in the center, water starts to move freely to form new shapes just like a lava lamp. This sequence expresses the development of Kobe and how it still grows as a city of diversity.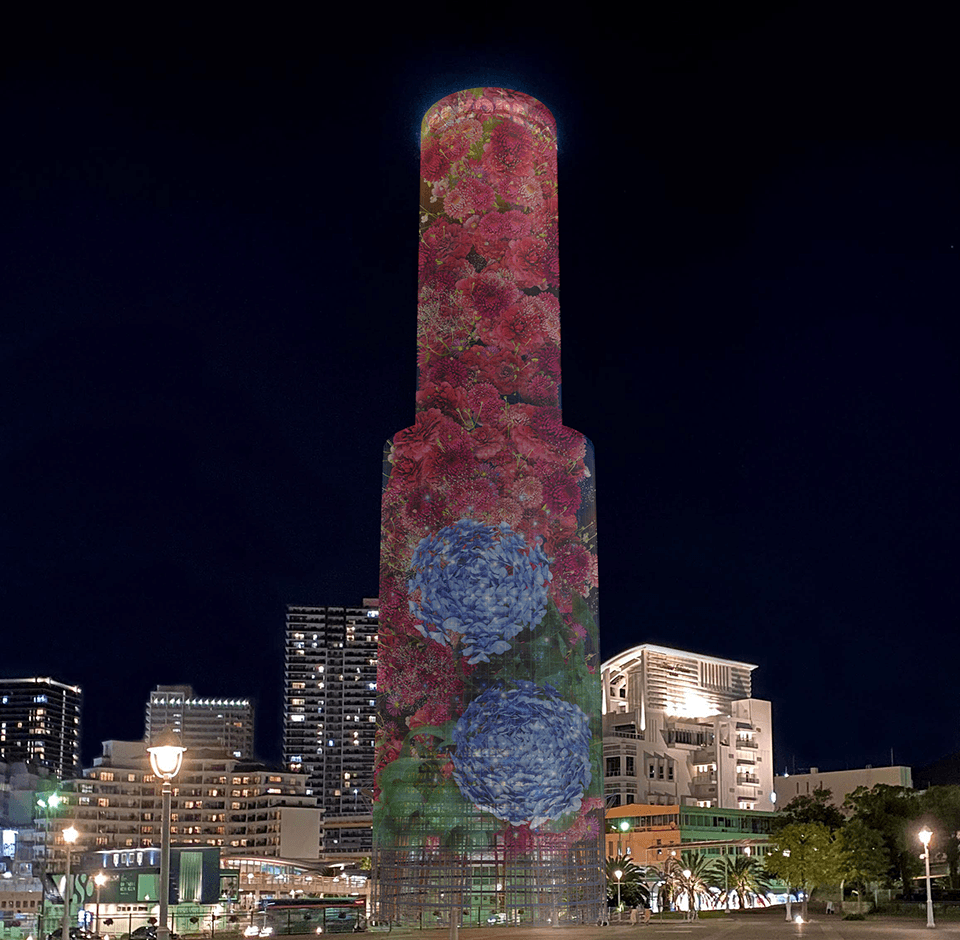 [2] Development and Growth
04/09
The sun rises and a tree branch coming into bud. As the branch further grows, hydrangeas blossom. Hydrangea is a well-known symbol flower of Kobe city.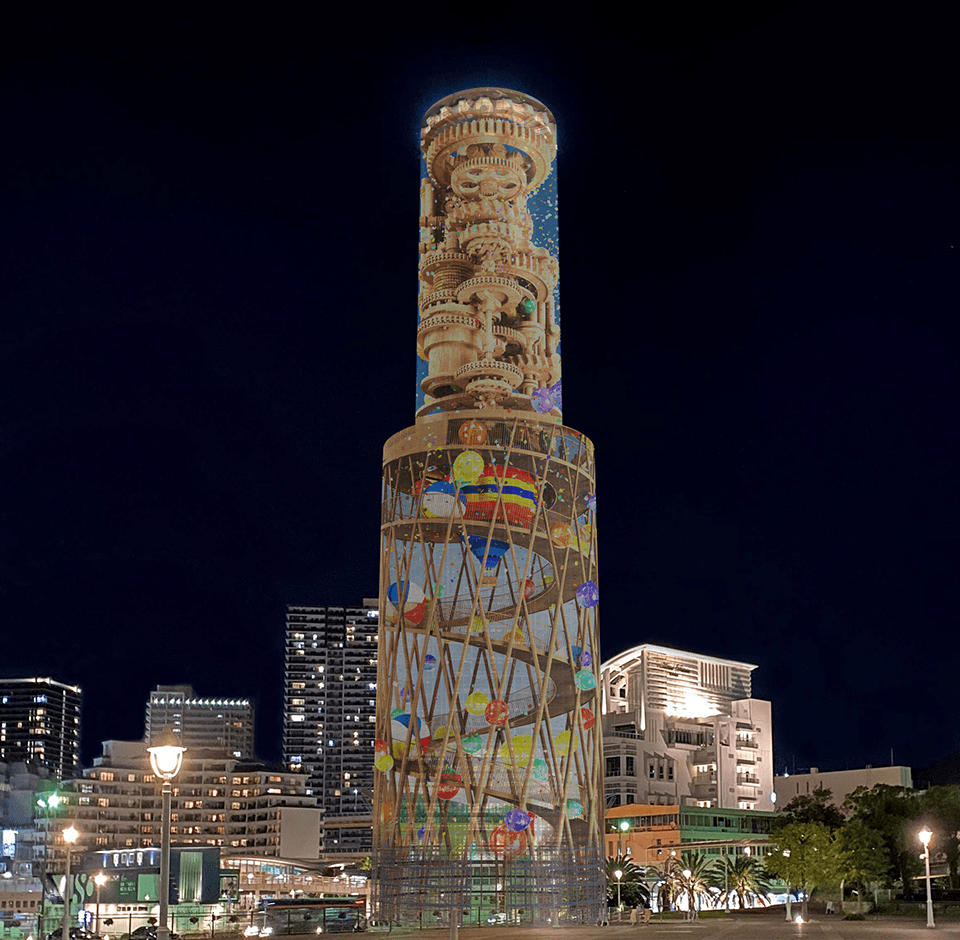 [3] Parade of Prosperity
05/09
As we see drapes of warm light on the screen, grids and spiral slate appear. The rise of colorful hot-air balloons, small balloons and rolling balls imply the city's prosperity where many people gather to enjoy food, art, sightseeing, culture and traditional heritage.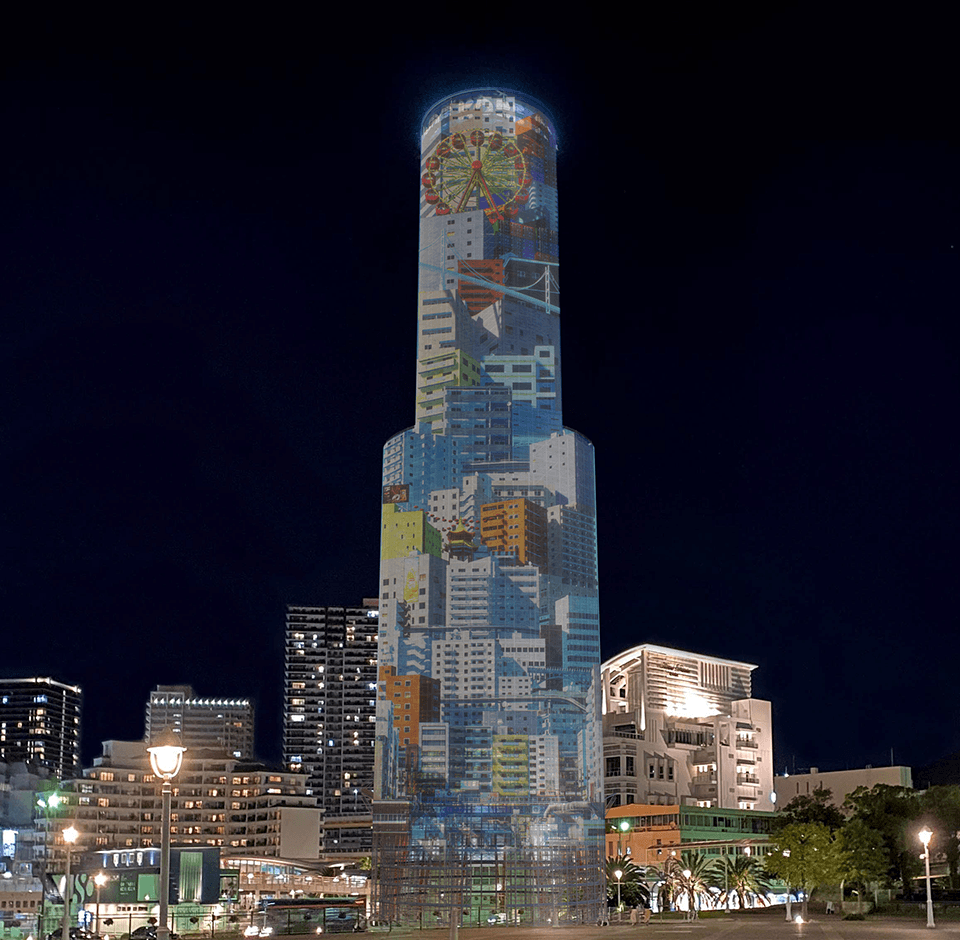 [4] Kobe Port and Streets
06/09
Blocks of current Kobe's streetscapes pile up. The blocks open up to show the illustration of the city. Look for the images of Kobe Harborland, Nankin-machi (Chinese Town), Akashi Kaikyo Bridge and Mosaic Ferris Wheel.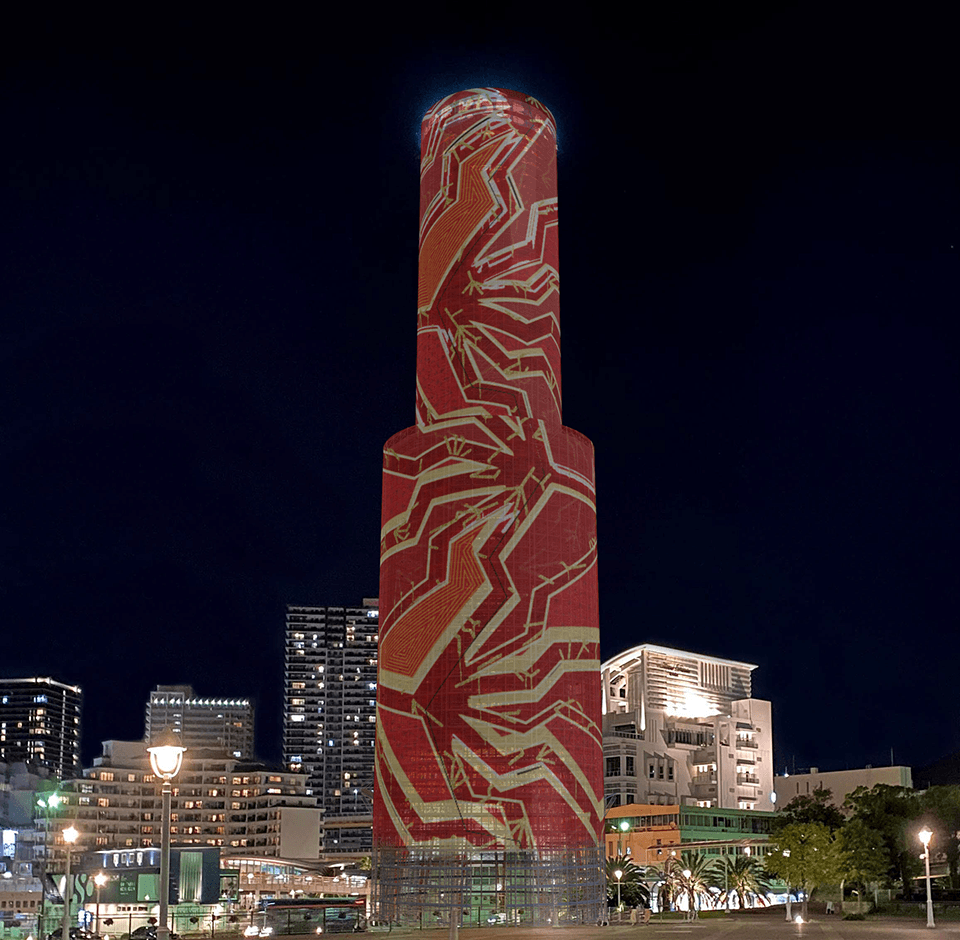 [5] Fashion and Art
07/09
Sheets of cloth cover the whole screen, and when it's opened by a zipper, we see the distinctive "BAKI pattern" that is originally created for this Kobe Port Tower projection show.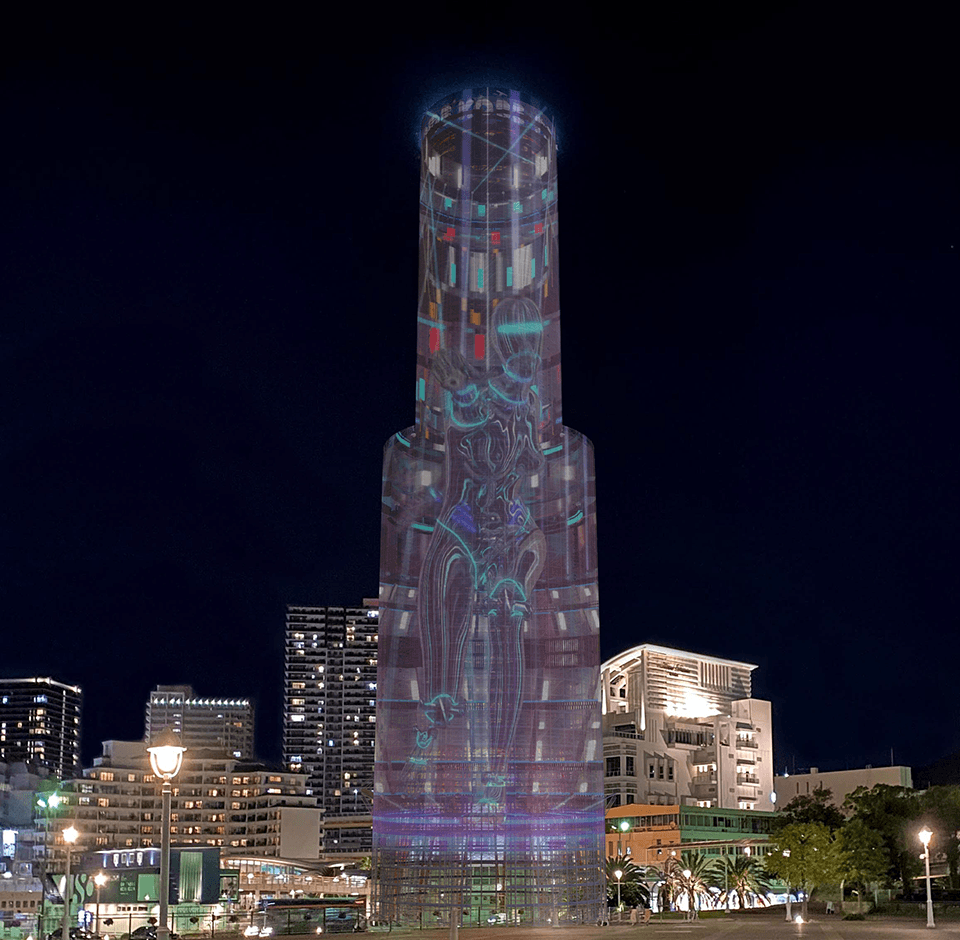 [5] Fashion and Art
08/09
Then, lit by a laser light, a futuristic, metallic mannequin shows up and takes different poses. The mannequin represents the fashionable aspect of Kobe, while expressing the energy and diversified qualities of the future generations.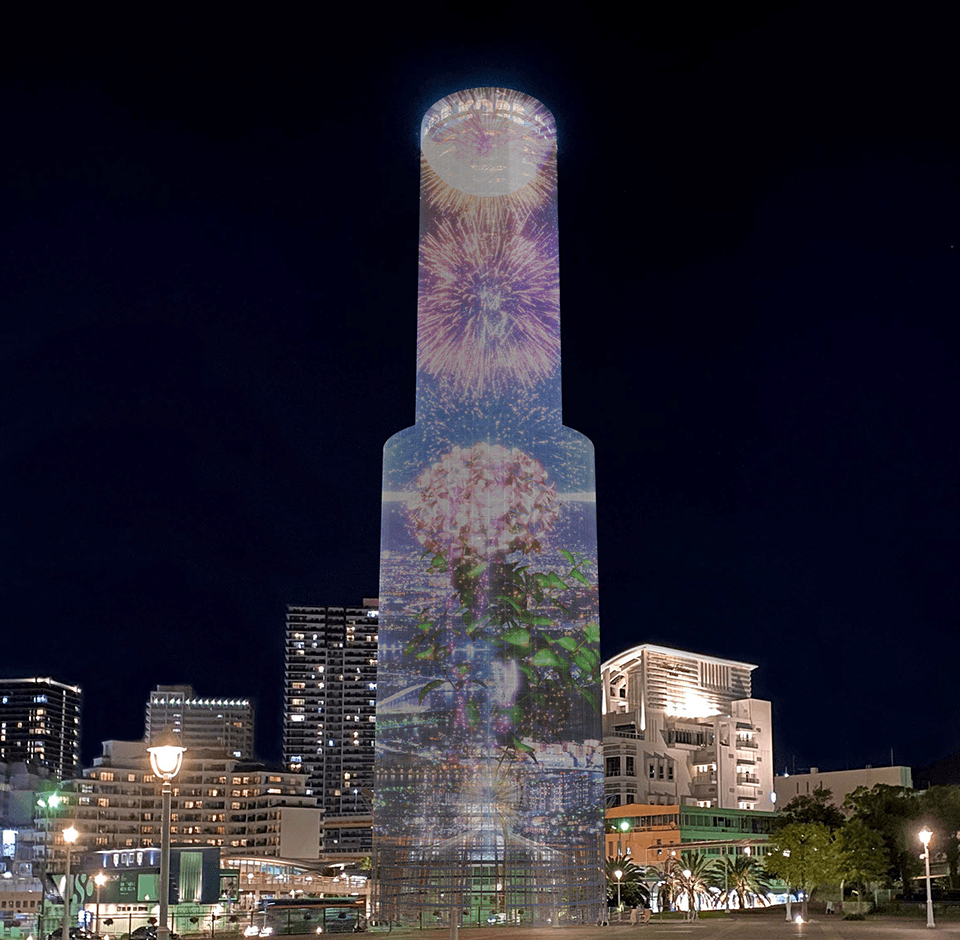 [6] Towards the Future
09/09
Overlooking from Rokkosan, we now see the 10-million-dollar worth of Kobe's night view. Against this background, a big hydrangea starts to blossom. The show closes with the hope for the city to remain attractive and captivating, and to prosper even more in the future, which is symbolized by the butterflies souring into the air.
Production Staff
SYMDIRECT Takenaka

SYMDIRECT is a group unit specialized in planning and producing events, which was founded by Takenaka Co. Ltd., a company that started off its business as a projector manufacturer in 1926. Being a "Real and Virtual Experience Provider," SYMDIRECT is committed to creating value in the space it produces by combining its creative producing capability with Takenaka's high visual technology and content production skill.

Daisuke Ito

Dedicated his college time to creating visuals/movies on his own.
He further studied music and movie production at a technical academy and later on joined Takenaka in 2004. He exerted his talent in producing excellent visuals for promotional projection mapping in overseas since 2009-- way before Japan starts to take notice of projection mapping.
Since then Daisuke is engaged in many successful projection mapping productions.

Wataru Sato

Wataru started playing piano when he was 5 years old. He entered Hamamatsu Gakugei High School and took the Brass Band Course. He later went to Osaka College of Music, Composition Major. While in college, he studied computer composition on his own. Since Wataru is heavily influenced by the harmony of the French Impressionism and the "subtle pause" in the pure Japanese music, he composes many pieces of music that feature Japanese music instruments and also writes many Western music. He arranged the music for the Japanese national artistic swimming team that competed in the Rio and Tokyo Olympic Games. He works as a composer and arranger in the field of TV commercials, VP, event music and other genre.

BAKIBAKI

Born in Osaka, 1978, BAKIBAKI graduated from Kyoto City University of Arts.
His signature pattern, known as "Baki Pattern," is his own interpretation of the traditional Japanese pattern in which the cultural heritage and the essence of street culture are blended together. His activity centers around drawing mural in various places in Japan. He conducted live painting events and workshops in 13 countries. He started the "Yodo Kabe" project in 2021, which is a mural drawing project in Yodogawa ward, Osaka. He is currently focused on revitalizing the community as the Osaka World Expo is scheduled to take place in 2025.