ABOUT the project
Seeking to merge the world of art into the city of Kobe,
"KOBE WATERFRONT ART PROJECT" will be held from January 2022 up to spring in 2023.
Taking the opportunity of the renewal of Port Tower, which is the symbolic icon of Kobe,
the project aims to maintain people's affinity with the tower even when it's covered up during the construction work.
The idea for this project started with the hope that
people will feel familiar with all the changes in Kobe waterfront area and aspiring them to visit more.
Starting off with a projection mapping on Kobe Port Tower, series of events are scheduled to be held,
such as a large-scale art event featuring artists from overseas, and another art event
of which the residents of Kobe city can participate.
In addition to these, some events that enables visitors to take part in the creation of artwork
on the spot, or via SNS, will also be held.
Through this project, we hope that more people will come to know
the charms of this captivating area of Kobe waterfront.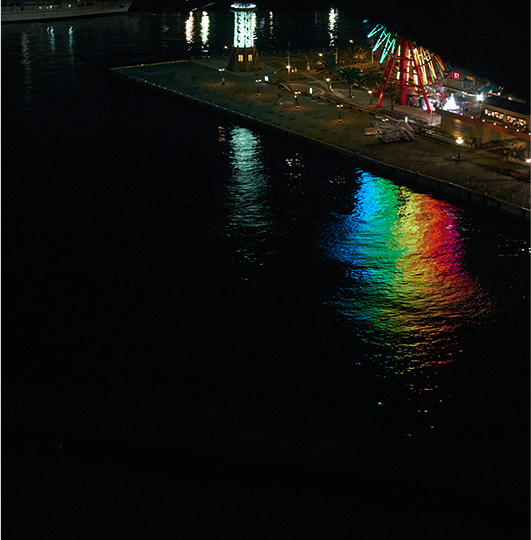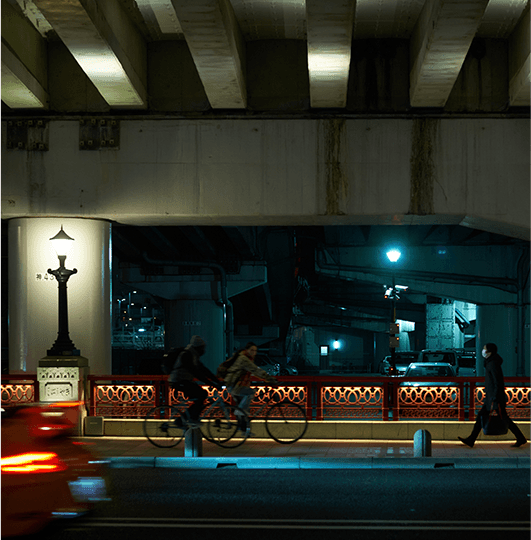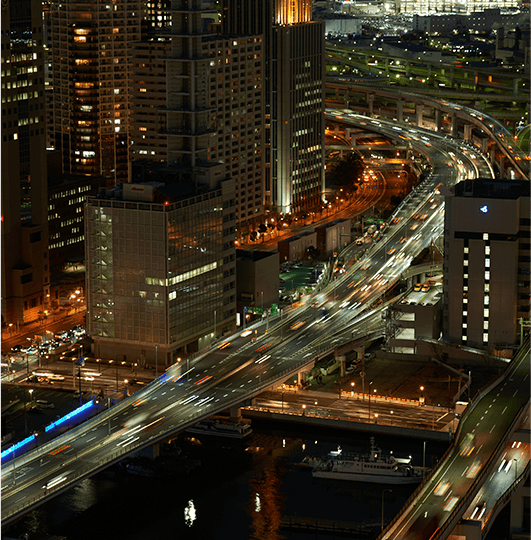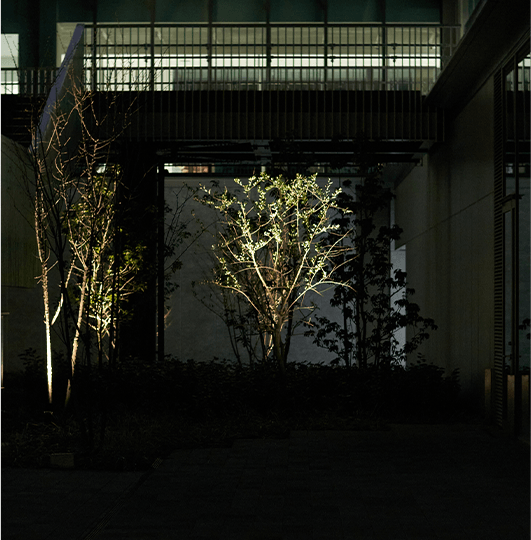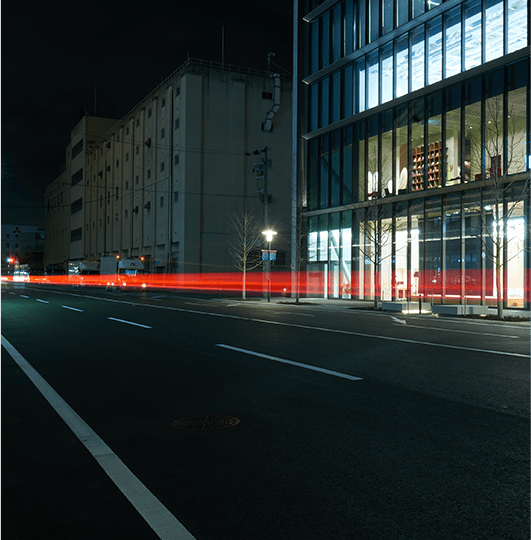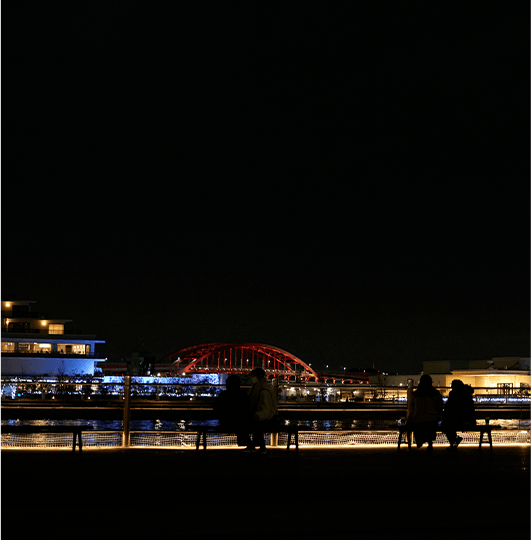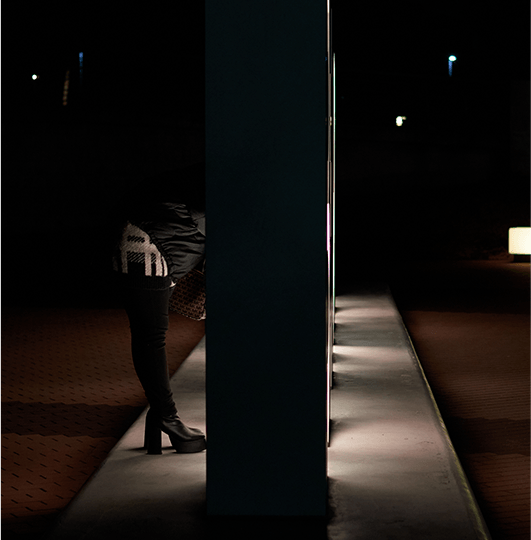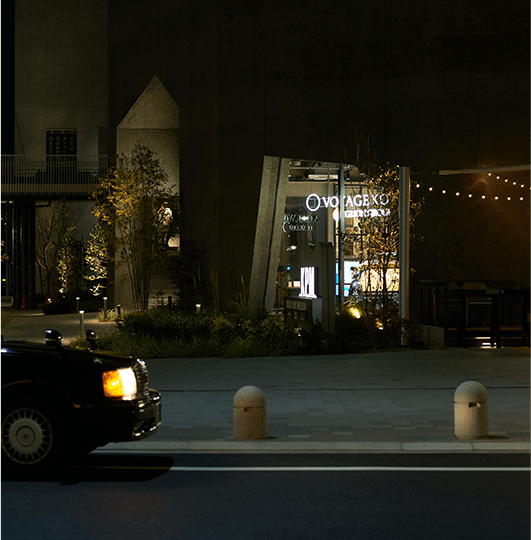 In Kobe waterfront area, renewal work in the Meriken Park and Kobe Maritime Museum
had been conducted in the past.
In October 2021, Kobe Port Museum was opened, attracting many visitors to the Shinko Pier west district,
which is also located in the east side of Meriken Park.
The opening of this museum now brings new flow of people to this area.
Today, Kobe waterfront is certainly in the phase of change.
In addition to the current renewal of Kobe Port Tower, where it will be the main stage for this art project,
a plan to open a large multi-purpose arena in Shinko No.2 Pier district is coming underway,​
Kobe Waterfront Art Project No.3
Your photo projected on Kobe Port Tower
Participatory Projection Mapping
"#ThatMomentInKobe"
Projection period

:

Saturday, June 18, 2022 to spring 2023
Latest implementation status
Location

:

Kobe Port Tower
Projection times

:

20:00 to 22:00, every 25 minutes / 55 minutes. Approximately 3 minutes and 30 seconds per projection.
Participating teams

:

Vissel Kobe and INAC Kobe Leonessa soccer teams, Kobelco Kobe Steelers rugby team, and Hisamitsu Springs volleyball team.
How to enter:
①Follow the Kobe Waterfront Art Project's official Instagram (
kobe_artproject
)
②Post your photo via
the form
on the dedicated website.
Submission period:
Second phase – Monday, july 4 to Sunday july 31, 2022.
※30 selected images from the second phase will be projected from early September.
※Information about the third phase entries will be posted on the official Instagram (
kobe_artproject
) and on the dedicated website.
※Photos submitted but not projected during the above period will be given the opportunity to be projected on the Kobe Port Tower in a future project.
※The periods are subject to change.
Photos wanted:
Memorable shots captured in Kobe
※We recommend photos taken in landscape format.
※Minimum of 1080pix (width) x 810pix (height) (Smartphone photos are allowed)
※Photos must include people (photos without face masks are recommended)
The first round of the Kobe Waterfront Art Project :
Kobe Port Tower
Projection Mapping
The theme of the projection show is "Anchor"
which is an object that is attached to the ship to keep it in one place.
It also means "strong base" or "starting point".
This projection mapping unfolds various sceneries and "stories" that are anchored to the city of Kobe,
such as showing historical buildings of the "Ijinkan" (former foreign residences) and old settlement
that once flourished around the harbor area in Meiji Period, with a tonality of retro-pop graphics.
A symbolic graphic of "Saginomori Japanese Zelkova"
which stood in Saginomiya Hachiman Shrine (in Higashinada Ward) for over 800 years
and was the city's designated natural monument,
and scenery of Infiorata Kobe which decorates the city of Kobe with many colorful flowers,
are also introduced in the show.
Period

:

April 29, 2022 (Friday) ~ The end of July,2022


(Shows will run every day. *Subject to change due to events, and other causes.)


Latest implementation status
Projection time

:

Everyday at 20:00 to 22:00,
starting at every hour (0 minute) and at 30 minute.
Each show is approximately 7 minutes.
Location

:

Meriken Park


(The show is intended to be viewed in this park. Watching from other places will not provide good view)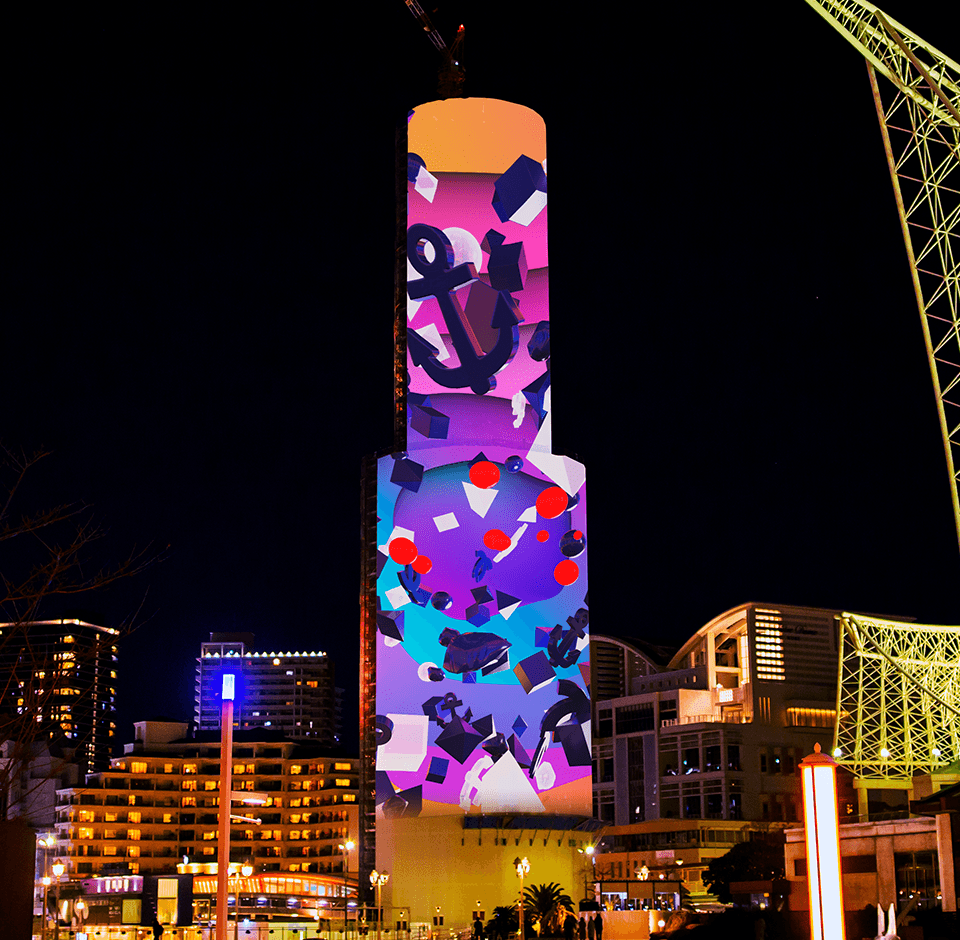 Drops of liquid slowly spread out and start to blend. This sequence expresses the concept of a new era being created through divergence and ever-changing perspective.
Nine red balls, representing Kobe's nine wards, transform into a shape of an anchor, implying that forthcoming "stories" all start from Kobe.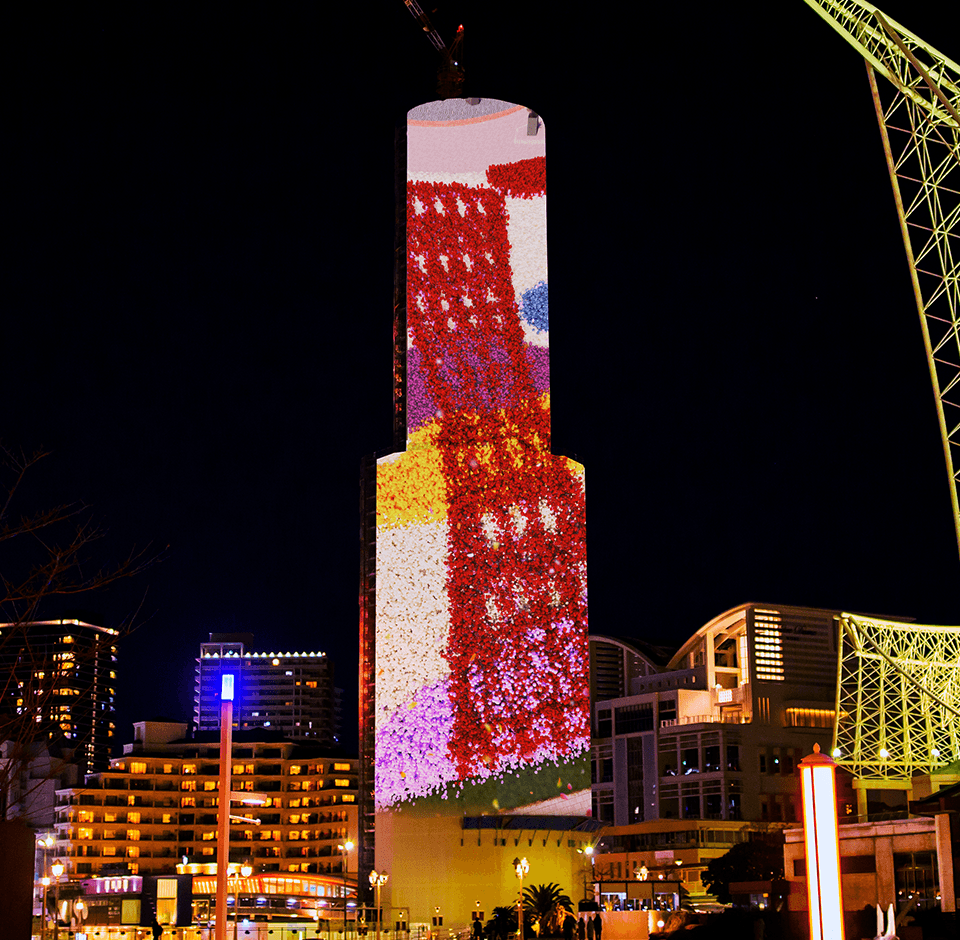 Proceeding the corridor decorated with flowers, the camera reaches the venue of Infiorata at Port Tower.
Infiorata is Kobe's established seasonal event that celebrates the coming of a warm springtime.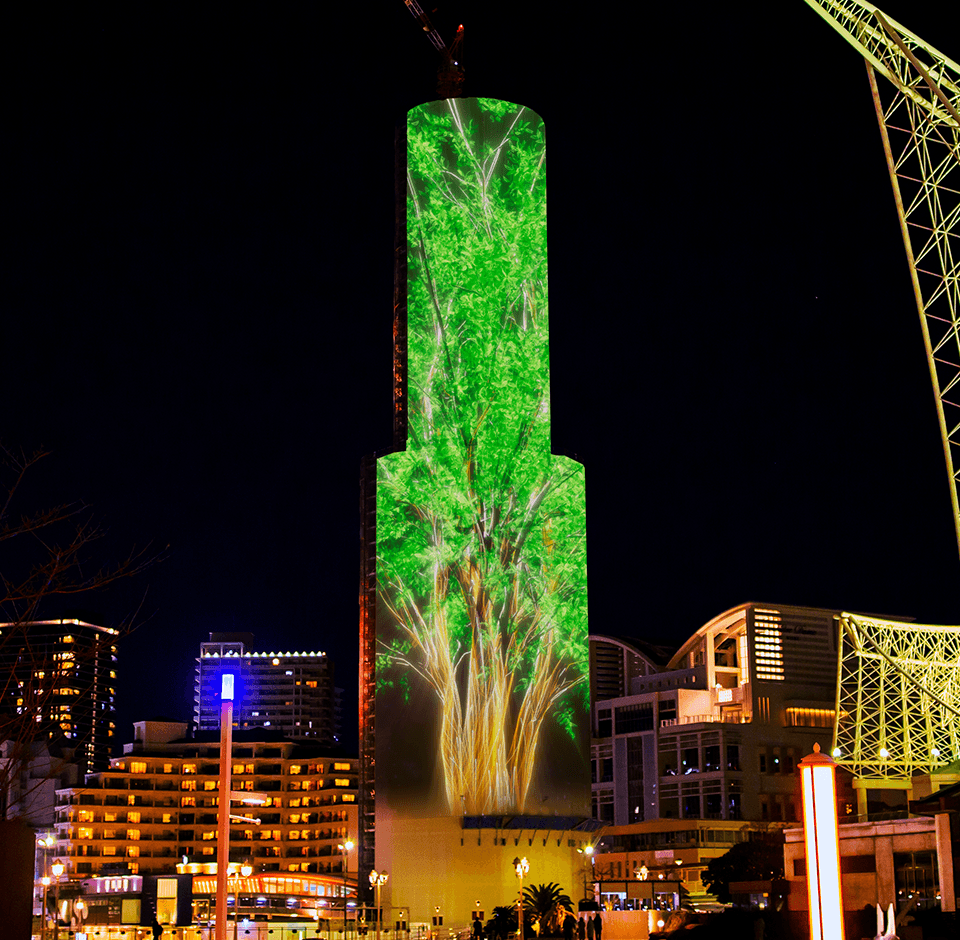 [3] Saginomori Japanese Zelkova
03/09
Multiple lines that look like arteries, bundle together to form a trunk and branches of a large Japanese zelkova tree. This graphic represents the "Saginomori Japanese zelkova" which was the city's designated natural monument that stood in Saginomiya Hachiman Shrine (in Higashinada ward) and looked over the long history of the area.
After this gigantic tree collapsed due to a typhoon (in 2017), a young zelkova tree was planted. The life of tree overlaps with the further growth of Kobe.
Introducing some historical buildings that are still present today, such as the Weathercock House, which is one of the former foreign residences that was built for a German trader in Meiji Period. One can also find the old settlement area, referred to as "the most beautifully and well-designed settlement area" in Orient, and the building of Kobe Customs, constructed as "the modern-style large customs office building worthy to be the main entrance to the empire" at that time.
Some nostalgic graphics/photos, mainly the historical buildings that was constructed in aligned to the opening of Kobe Port, will be projected. A graphical whale that is specially designed for this show, will be swimming gracefully across the screen. The city's unique aspect of emerging "history" and "trend of time" is artistically hinted in this sequence.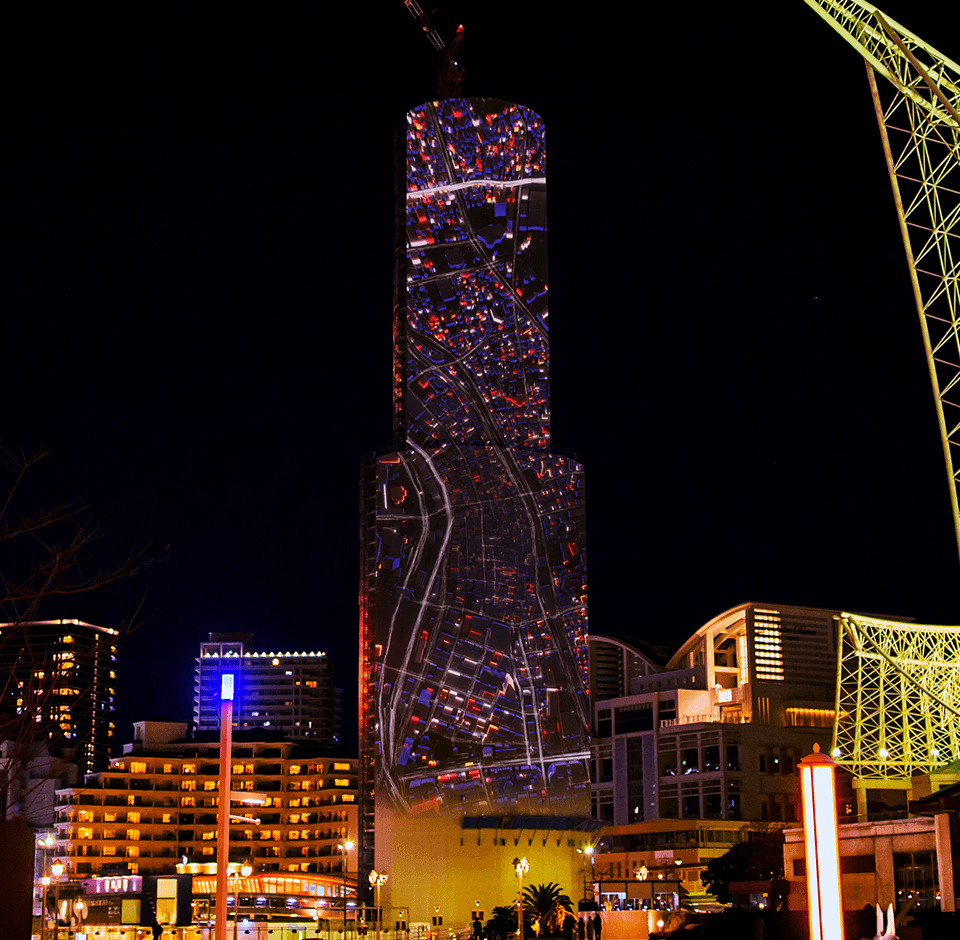 [5] Dazzling Night View
05/09
Numerous sphere-like objects start to move like crowds of people. As the whole picture is revealed, the city of Kobe appears. The dazzling ten million-dollar night view, also famous as one of the three most beautiful night views in Japan, can be enjoyed from an extraordinarily bird's-eye view.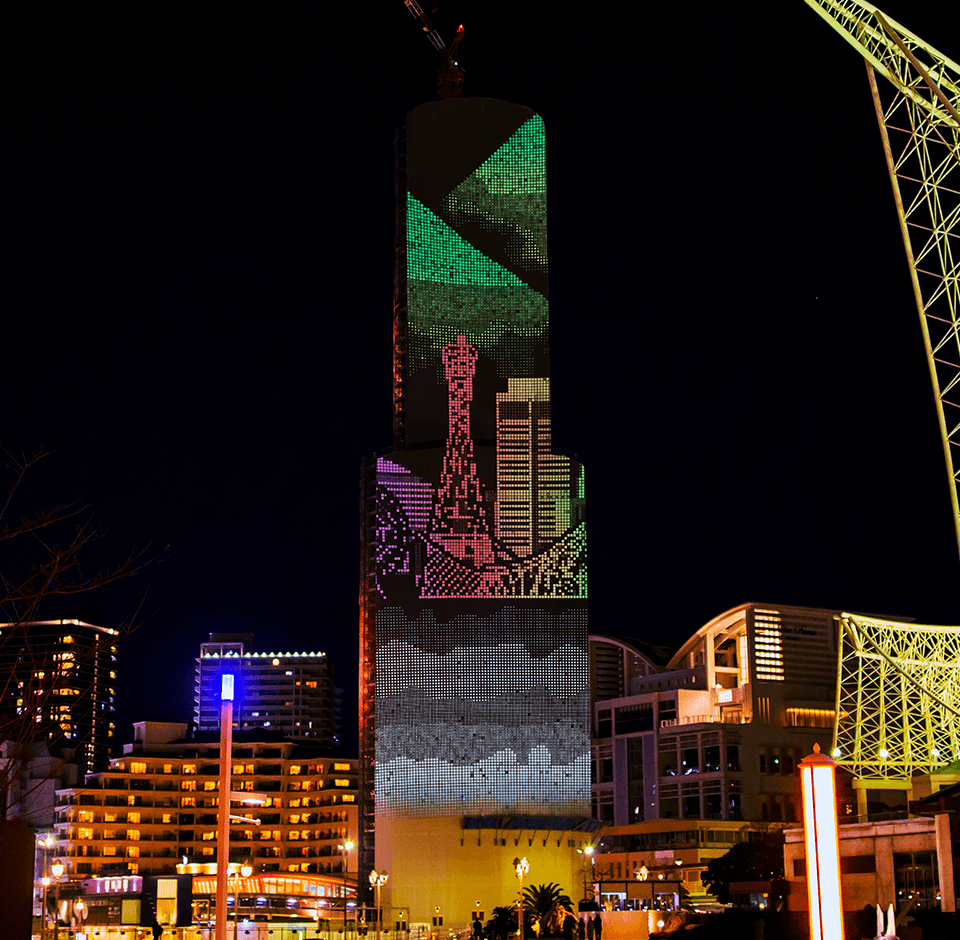 [6] Symbiotic Relationship with Nature
06/09
Dazzling city view will be covered by a wave of digital pixel-like objects, which then transform into graphics of the Port Tower, Kobe Maritime Museum, the Ferris wheel, aside by ocean and mountains. The scene is intended to communicate that Kobe is a beautiful city blessed with rich natural environment nearby, which is unique compared with other large cities in Japan.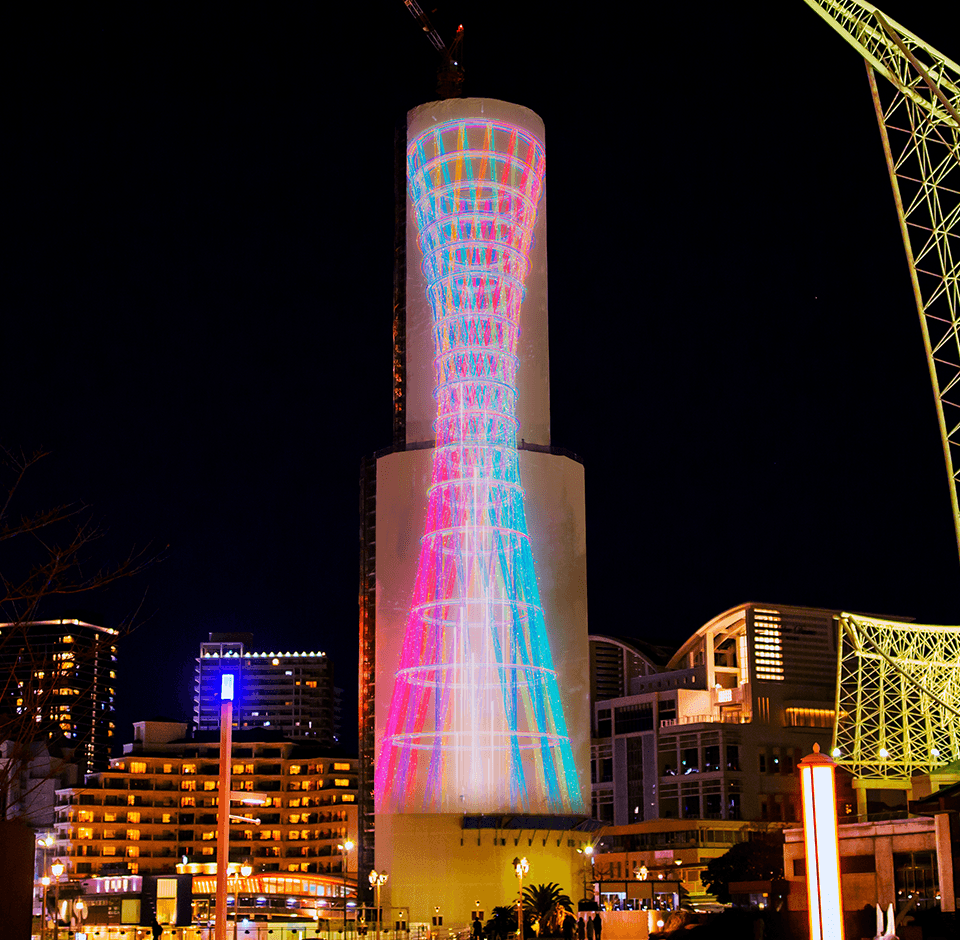 [7] The Steel Tower Beauty
07/09
Colorful lines extend straight out from waterfront area, the ocean and the mountains. As they move, the lines get twisted and coiled to eventually form an object that looks like the Port Tower.
This is an image of the steel tower (personified as a beautiful woman) changing its dress behind the veil.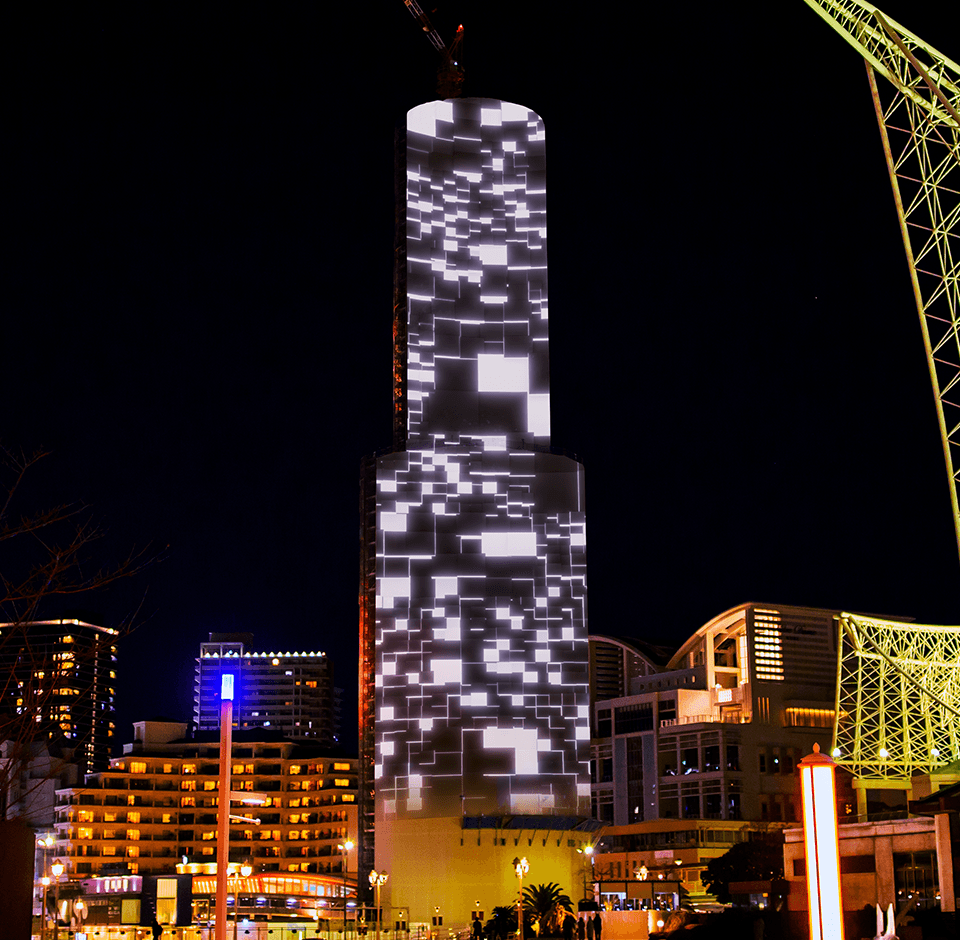 [8] Light of the Future
08/09
While the steel tower is hidden behind mosaic tiles, it is getting ready to present itself to the public. We see the overflowing light coming through between the tiles. The light implies the coming of a bright future ahead.
[9] New Road that Leads to the Future
09/09
Sailing boats, cruisers and container ships depart from the port. When the patters on these ships' sails come together, they form the word "KOBE".
The message here is a hope that Kobe will continue to present its culture and diverse way of thinking out to the world, thus creating a new road ahead to a glorious future.
Projection Mapping
Music
that dramatizes the show
The music used during the projection show was composed by Mr. Wataru Sato
who was in charge of producing the music used by the Japanese national artistic swimming team
for the Tokyo Olympic Games.
Please enjoy the music along with the beautiful visuals projected on the tower.
Additional show
Between the projection mapping shows at every hour at 0 minute and at 30 minute,
a sequence of 5 visual themes that capture the imagery of Kobe, including some digital images, will also run on the screen.
The tower's 80-meter covering will play the role of canvas for these attractive visuals to be projected
which people will want to take photos. We hope you enjoy them.
Firefly Tree

Summer Sky

Youth

One Summer Day

Summer Diary
past videos
The second round of the Kobe Waterfront Art:
A content dramatized
with light and sound
-- a collaboration
between
Kobe Port Tower and
Kobe Maritime Museum
New content filled with light and sound, produced in collaboration between
Kobe Port Tower and Kobe Maritime Museum, will start.
Lightings at these two facilities will dance colorfully to the music,
thus producing a totally new-style entertainment of light and sound.
Period

:

April 29, 2022 ~

spring of 2023




(Shows will run every day. *Subject to change due to events, and other causes.)


Latest implementation status
Projection time

:

Everyday at 20:00 to 22:00,

starting at every 7 minute and at 37 minute.


Each show is approximately 6 minutes.
Performance
Timetable:
○At every 0 minute and 30 minute:

Port Tower Projection Mappin "Anchor"
(approx. 7 minutes)
○At every 7 minute and 37 minute:

Port Tower & Kobe Maritime Museum "Light and Sound"
(approx. 6 minutes)
○At every 13 minute and 43 minute:

Running graphics between the shows
(5 different graphics in total)
(approx. 6 minutes x 2 times)
○Every 25/55 minutes:

Participatory Projection Mapping
(approximately 3 minutes and 30 seconds)
※At other times, the tower will be lit up by colors. (from dusk to 23:30)
Production Staff
Projection Mapping
"Anchor"
SYMDIRECT Takenaka

SYMDIRECT is a group unit specialized in planning and producing events, which was founded by Takenaka Co. Ltd., a company that started off its business as a projector manufacturer in 1926. Being a "Real and Virtual Experience Provider," SYMDIRECT is committed to creating value in the space it produces by combining its creative producing capability with Takenaka's high visual technology and content production skill.

Kiyoki Ohuchi

After working as an interior designer for 10 years, Kiyoki re-entered college to study spatial presentation via use of visuals, and later on joined Takenaka.
Based on his architect ideation, Kiyoki is engaged in creating video works that merge space and visuals together, by mixing different styles of CG, VFX, Motion Graphics and other techniques. He is capable of giving overall directions at places like amusement parks, museums and retail shops in alignment with the video works he produces.

Wataru Sato

Wataru started playing piano when he was 5 years old. He entered Hamamatsu Gakugei High School and took the Brass Band Course. He later went to Osaka College of Music, Composition Major. While in college, he studied computer composition on his own. Since Wataru is heavily influenced by the harmony of the French Impressionism and the "subtle pause" in the pure Japanese music, he composes many pieces of music that feature Japanese music instruments and also writes many Western music. He arranged the music for the Japanese national artistic swimming team that competed in the Rio and Tokyo Olympic Games. He works as a composer and arranger in the field of TV commercials, VP, event music and other genre.

Keijiro Shiki

He started his career as an illustrator in 1998 and has been an art director for print materials, videos, web, as well as designing apparels.
He joined 5JIGEN (a designer unit) from 2000 to 2014.
He set up his own design office "SLOWSTARTER" in 2015.
Keijiro designed the pamphlets for topical big movie titles such as "Blade Runner 2049," "TENET," "DUNE" and many others.
A content dramatized
with light and sound


-- a collaboration between

Kobe Port Tower and

Kobe Maritime Museum
Shiho Nagamachi

Shiho is a lighting designer/director and the CEO of LEM Design Studio Co. Ltd. who graduated from Kyoto Institute of Technology. She is engaged in various lighting design projects in the areas of designing cityscape for night time, community design centered around lighting, public artworks using lights, and many others. Her major works include "Nagato Yumoto Onsen Touring Design (Nagato city)", "Shigeru Mizuki Road (Sakai Minato city)", "Kawayu-no-Mori Night Museum (Hokkaido)", "Flower Road & Meriken Park Lighting Redesign (Kobe city)" and "Dojima Ohashi (Osaka city)".

The announcement text is included.
July 6, 2022

Please note that the show time for "Kobe Port Tower Projection Mapping" and "Content dramatized with light and sound-- a collaboration between Kobe Port Tower and Kobe Maritime Museum" will change beginning from July 9th. due to a request to conserve electricity.
Previous show time: 19:30 ~ 22:00 → New show time: 20:00 ~22:00

June 18, 2022

Start of the third round of the Kobe Waterfront Art:

Your photo projected on Kobe Port Tower
Participatory Projection Mapping
"#ThatMomentInKobe"
A new intermission show, titled as "Summer," will be projected.

April 29, 2022

Start of the second round of the Kobe Waterfront Art:

It will be a collaborated project between Kobe Port Tower and Kobe Maritime Museum, with content dramatized with light and sound!
※ The content of the projection mapping will be renewed.
Please note that show time will change as follows:
[Present] 19:00~22:00 [From April 29~] 19:30~ 22:00

March 15 , 2022

Please note that the starting time of Kobe Port Tower projection mapping will change beginning from March 18th.
Previous show time: 18:30 ~ 22:00 → New show time: 19:00 ~22:00

March 4, 2022

Notification on the Renewal of Projection Mapping Intermission Show

A new intermission show, titled as "Cherry Blossoms and Spring Greenery," will be projected starting from March 18th!

FEB 05, 2022

Kobe Port Tower Projection Mapping, Powering Up Its Hight To 80 Meters